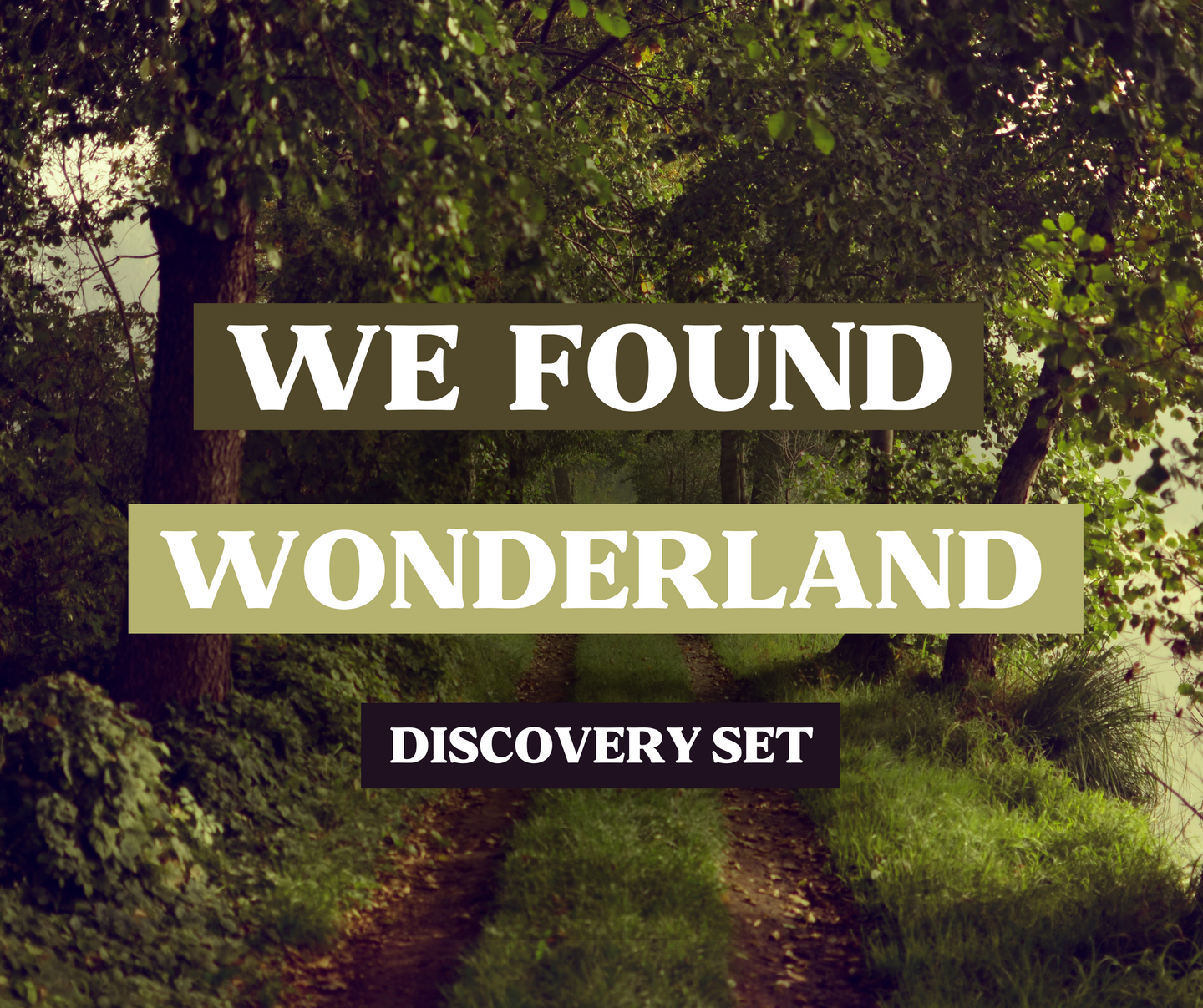 We Found Wonderland Discovery Set - 10 Fragrances
Regular price

$88.00 USD

Sale price

$79.00 USD

Unit price

per
This includes ten, 2 oz fragrance oils inspired by the Alice in Wonderland novels. The collection includes: 
White Rabbit - Eucalyptus Leaves, Lily of the Valley, Tree Moss, Violet Leaf, Cedar Wood, Sandalwood, Oakwood, Sheer Musk
Black Velvet - Sweet Cream, Olibanum, Cassis, Pomegranate, Cedar Wood, Tuberose, Jasmine, Vanilla, Sheer Musk, Vetiver, Patchouli
Spiced Honey & Patchouli - Spiced Honey, Lemon Sugar, Roasted Cocoa, Patchouli, Sandalwood, Musk Absolute, Vanilla Bean
Black Tea & Vices - Lemon Rind, Orange Peel, Plum Wine, Spiced Bourbon, Aged Tobacco Leaves, Patchouli, Cedar wood, Vanilla Musk 
French Roses & Wild Musk - Italian Lemon, Apple Blossom, Bergamot, Raspberry, May Rose, Violet, Jasmine, White Musk, Patchouli, Sandalwood
Positano - Bergamot, Lime Zest, Watery Greens, Lavender, Eucalyptus, Amber, Sandalwood, Cedarwood, Patchouli
Sparkling Neroli - Crisp Apple, Green Mandarin, Sheer Jasmine, Crushed Basil Leaves, Neroli Oil, Bitter Orange Tree Branches, Vanilla Bean Pods
California Sunset - Champagne, Lychee, Pink Pepper, Bergamot, Coastal Rose, Wild Jasmine, White Musk, Cedar, Sandalwood, Amber
The Gramercy - Orange Peel, Cocoa, Vanilla Blossoms, Carrot Seed, Violet, Orris Absolute, Ambrette, Earthy Tobacco, Smoked Cedar, Cade Oil, Spiced Musk
Endless Roses - Steeped Rose Water, Egyptian Geranium, Rose Hips, Comorian Ylang-Ylang, Guiacwood and Rose Stems
Share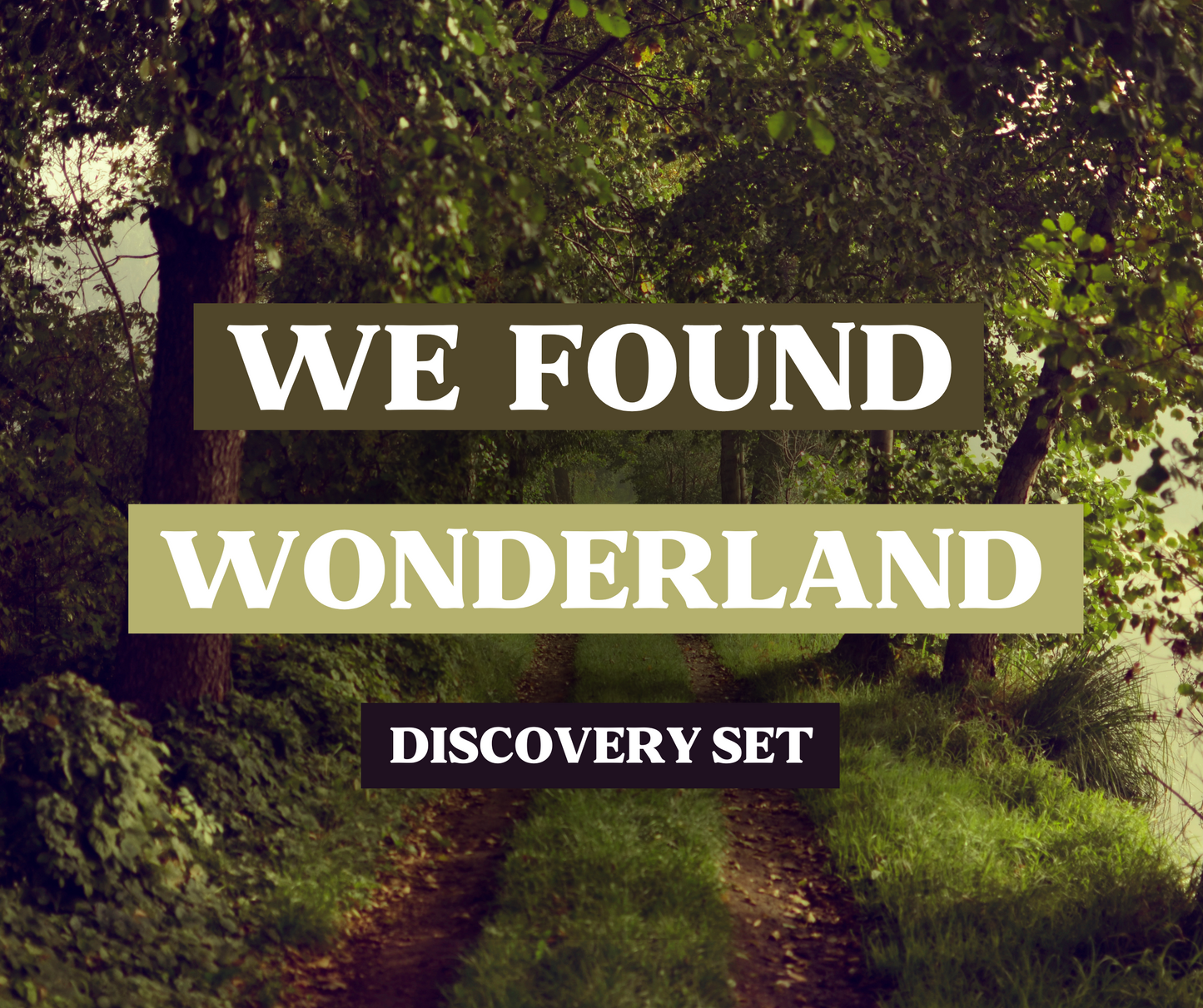 In Love With Wonderland!
I could not wait for this collection to go live! Not only did I immediately get this, but also some 16oz bottles of ones I just knew I would love. Not a single fragrance in this collection was not immediately loved! All scents have performed perfectly in every application I have tried. Definitely the biggest bang for your buck!
Get it!
This is such a great discovery set. Each fragrance oil is so different from each other, a mix of summer scents with seductive/darker scents - such a good variety.
Excellent Simbi Starter Set
This discovery set was part of my first order from Simbi and it did not disappointed. I had been wanting to order from Simbi for a while now and I had high expectations on the quality of the fragrances from not only the reviews on the website but also from Simbi's Facebook group. I felt like I could use almost any of these fragrances in my line. My favorites of the set (because it's so hard to choose just one) would be: French Roses & Wild Musk, Black Velvet, and White Rabbit. Still excellent fragrances but as there are favorites, there are least favorites which would have to be Endless Roses, Spiced Honey & Patchouli, and The Gramercy. I felt like this was the perfect starter set to explore!
Perfect year round collection
I'm so glad I ordered this discovery set! There are a few fragrances that I probably wouldn't have ordered by themselves and it would have been a big mistake!! I'm looking at you French Roses Wild Musk😉 My favorites from this collection are Black Tea and Vices, Black Velvet and California Sunset.
One of the best sets yet!
Tested each on scent strips and burned in 3oz tins with eco 4 wicks using coconut apricot wax. All had a great hot and cold throw. Loved every one!!