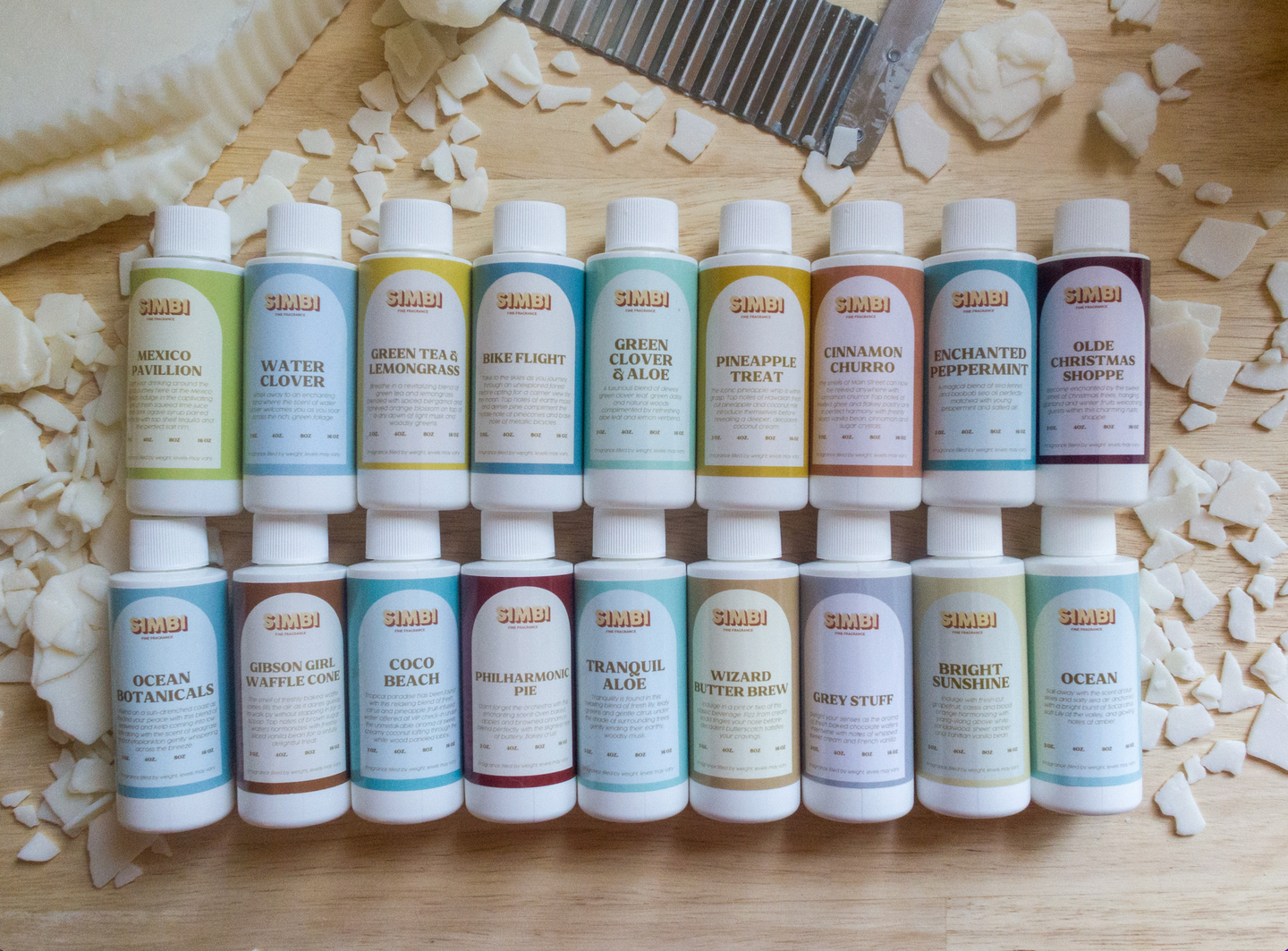 Enchanting Experiences Discovery Set - 18 Fragrances
Regular price

$149.00 USD

Regular price

Sale price

$149.00 USD

Unit price

per
Our Enchanting Experiences Discovery Set includes eighteen fragrance oils within our collection that will bring you back to your favorite theme park hotel lobbies, snack carts, attractions & more. All scents come in 2 oz sizes and are exclusive to SIMBI Fragrance. 
The collection includes: 
Green Clover & Aloe - A luxurious blend of dewey green clover leaf, green daisy, and natural woods complimented by refreshing aloe leaf and lemon verbena. The iconic scent piped in at Yacht, Beach Club, Grand Floridian and Contemporary.
Coco Beach - Tropical paradise has been found with this relaxing blend of fresh citrus and pineapple fruit-infused water offered at VIP check-in under the unmistakable aroma of sweet, creamy coconut lofting through the white wood paneled lobby. This is the signature coconut and sunscreen scent at Caribbean Beach Resort. 
Ocean - Sail away with the scent of blue skies and salty sea air anchored with a bright burst of SoCal citrus, soft Lily of the valley, and glowing notes of amber. This is the truest, most authentic ocean scent to exist in my opinion, and might remind you of soarin' over the SoCal coast.
Pineapple Treat - The iconic scent of fresh Hawaiian pineapple juice blended in frosty harmony with coconut cream. When swirled together, this whip treat is worth getting in line over!
Wizard Butter Brew - The fizzy, iconic scent of butter beer. It has a bit of cream soda, a bit of decadent butterscotch and a whole lot of magic as to how this is such a strong scent. If you want your home to smell like The Leaky Cauldron - this will make it happen.
Bike Flight - Take to the skies as you journey through an unexplored forest. This has top notes of earthy moss and dense pine that compliment the middle note of pinecones and base note of metallic bicycles. If you've ever been on the E.T. ride - this is it.
Bright Sunshine - Indulge with fresh cut grapefruit, cassis and blood orange harmonizing with ylang-ylang above white sandalwood, sheer amber and Tahitian vanilla bean. This is the signature scent of Social House resort lobbies across the world and Loews Sapphire Falls Resort at Universal Orlando. 

Green Tea Lemongrass - This scent is used both at Delano Las Vegas and Miami as their iconic daytime scent as well as at Pop Century. It's very much green tea and lemongrass, but it's grounded with notes of spiced bergamot and honeyed orange blossom on top of a dry down of light musk and woodsy greens. Pairs lovely in a collection alongside NY at Night - Delano's evening black tea and fig scent.
Water Clover - Whisk away to an enchanting land where the scent of water clover welcomes you as you soar across the rich, green foliage. 
Ocean Botanicals - Unwind on a sun-drenched coast as you find your peace with this blend of seaweed and kelp coming into low tide along with the scent of seagrass and phytoplankton gently whispering across the breeze. This scent was created as an amenity fragrance for magical resort rooms and on-board enchanting cruises and is the sister scent to Enchanted Peppermint.
Enchanted Peppermint - A magical blend of sea fennel, and baobab sea oil perfectly matched with young peppermint and salted air. The iconic scent of bath products at a magical destination. Pairs perfectly with their sister scent, Ocean Botanicals. 
Tranquil Aloe - Tranquility is found in this relaxing blend of fresh lily, leafy greens and gentle citrus under the shade of surrounding trees gently lending their earthy, woodsy musk. Likely will recall the feeling of gliding throughout a flight. 
Mexico Pavilion - If you're looking for a strong and accurate lime margarita scent that will instantly bring you back to drinking around the world - this is it. 
Philharmonic Pie - An enchanting scent of oven baked apples in browned cinnamon blended perfectly with the slightest hint of buttery, flakey crust. There are a lot of amazing pie scents out there - but if you're looking for the exact one from a magical attraction - we've got you covered!
Cinnamon Churro - This is THE scent you can't escape as you walk around the Happiest Place on Earth. It's an authentic cinnamon churro scent. We love this as-is or blended with our Grey Stuff scent below for an Oreo Churro scent.
Grey Stuff - This is an inspired scent reminiscent of ordering Grey Stuff at Be Our Guest. It's accurate chocolate cookie mouse in every sense of the word. 
Olde Christmas Shoppe - This is THE scent that's piped in at the year-round Christmas store right off Main Street. If you've ever walked into the olde world shoppe you know the exact notes and how much of a warm hug this scent is. It's full of fresh Christmas tree scents (not just the needles but the actual wooden base of all trees as well), winter fruits and the slightest touch of the smell of the shoppe. If you're looking for a complex, elevated wintertime tree scent this is worth your consideration.
Gibson Girl Waffle Cone - This is the iconic scent you'll likely recall from the ice cream shop on Main Street. It's brown sugar wafers with freshly sliced vanilla bean - warmed to perfection to make every home smell like an authentic bakery!
Share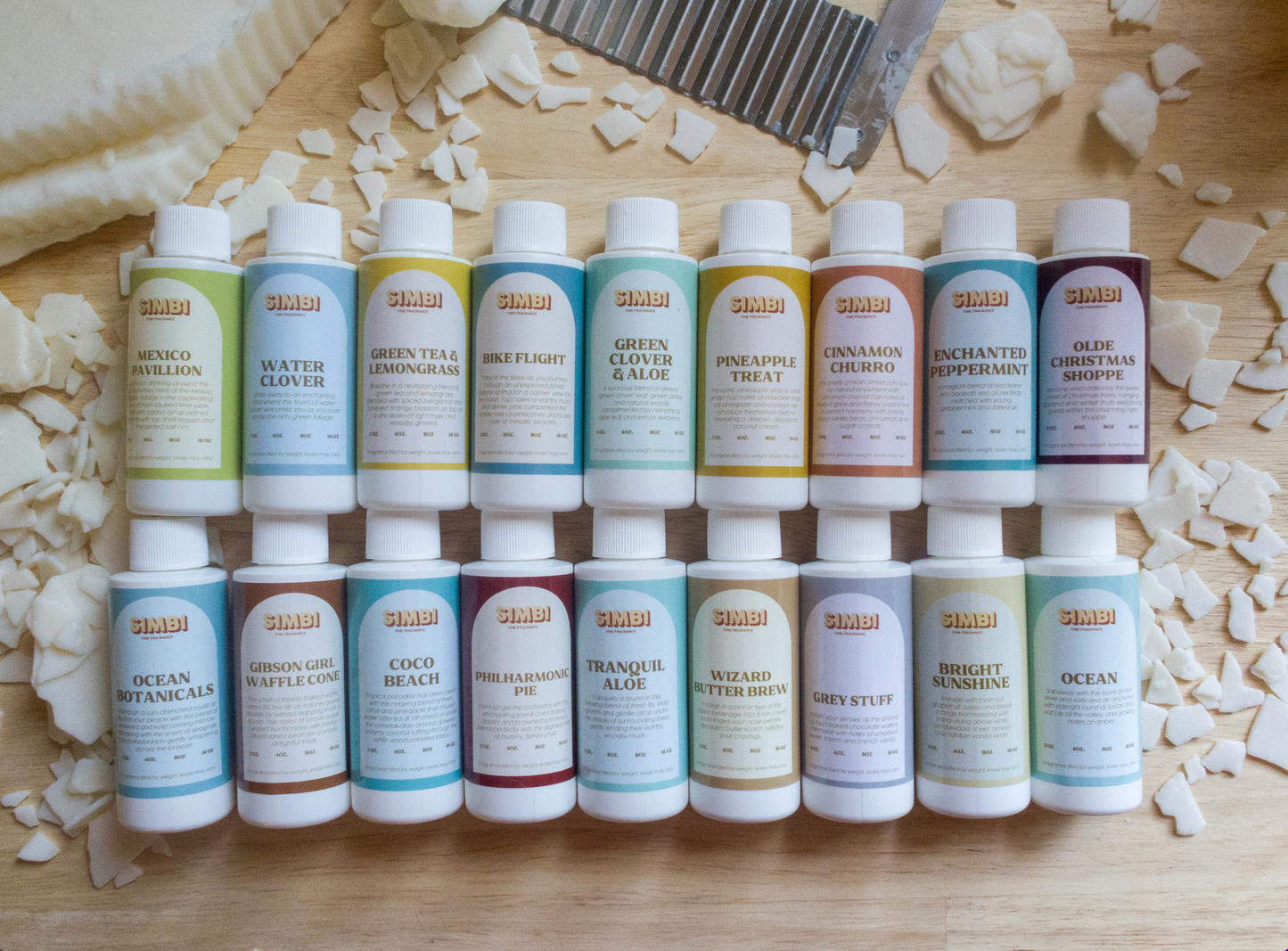 Spot On!!
My favorite discovery collection to date & what brought me to simbi!
Each scent is curated & truly magical! It's like stepping through the gates of the happiest places on earth! Cannot recommend this enough!
Spot on!
Closed my eyes as I sniffed the bottles and was instantly transported back to every vacation. Nailed every duplication, it's perfection!