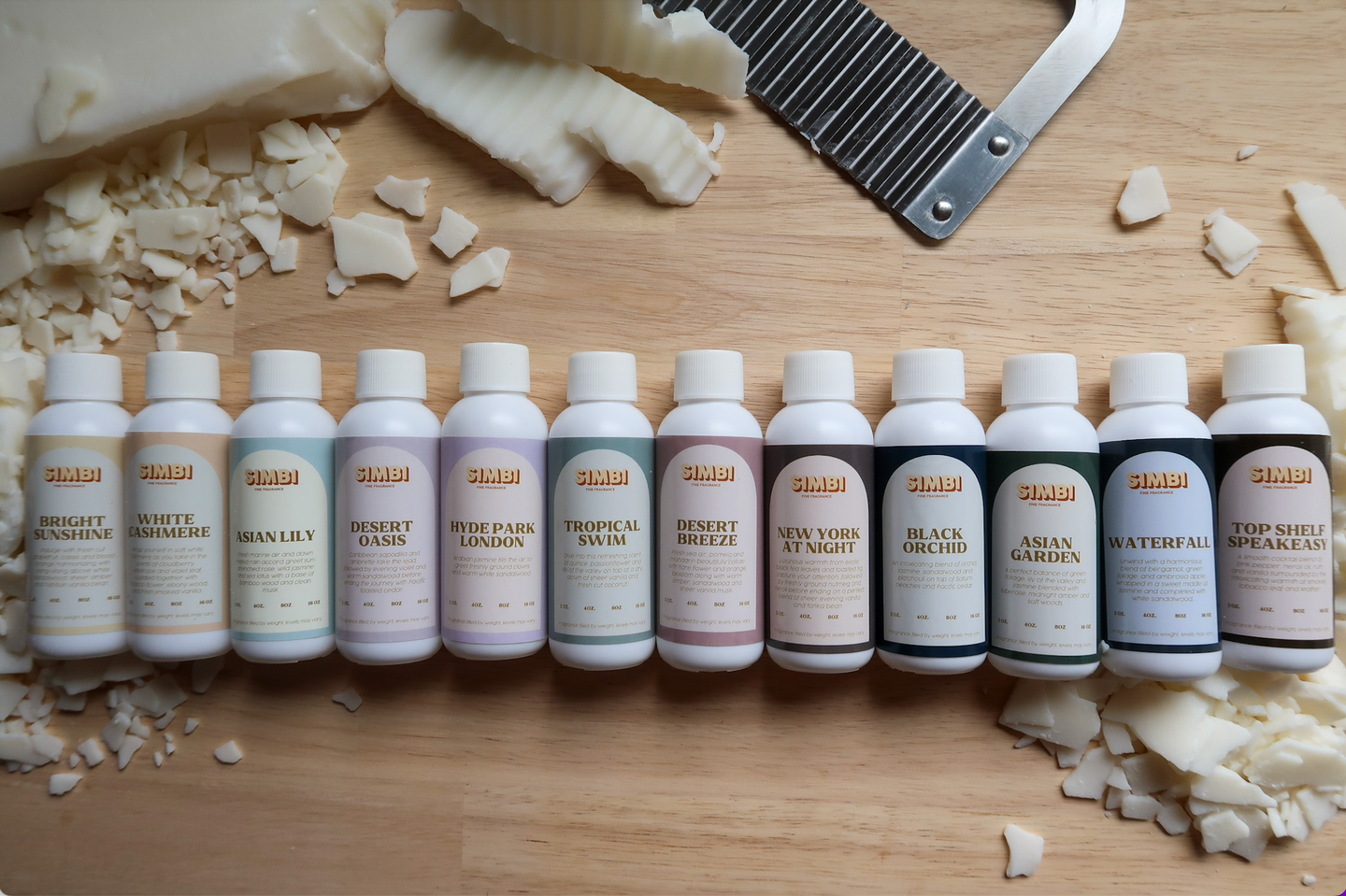 Destination Discovery Set - 12 Fragrances
Regular price

$105.00 USD

Sale price

$95.00 USD

Unit price

per
Explore the full, first collection from Simbi Fragrance with our Discovery Set! The Discovery Set includes twelve 2 oz fragrance oils of all resort-based fragrances. This collection is offered at a discounted price and comes with complimentary priority shipping.
The set includes:
Asian Garden - A perfect balance of green foliage, lily of the valley and jasmine blended with tuberose, midnight amber and soft woods. This scent is the featured lobby fragrance at two Las Vegas resorts.
Asian Lily - Fresh marine air and dawn misted rain accord greet sun-drenched rose, wild jasmine and sea lotus with a base of bamboo wood and clean musk. Asian Lily is the signature scent at a 5-star North Las Vegas resort lobby. 
Black Orchid - An intoxicating blend of orchid, jasmine, sandalwood and patchouli on top of Saturn peaches and Pacific cedar. Inspired by Shops in Las Vegas.
Bright Sunshine - Indulge with fresh cut grapefruit, cassis and blood orange harmonizing with ylang-ylang above white sandalwood, sheer amber and Tahitian vanilla bean. This is the signature scent of Social House resort lobbies across the world.

Desert Breeze - Fresh sea air, pomelo and mandarin beautifully collide with tiare flower and orange blossom along with warm amber, sandalwood and sheer vanilla musk. The defining, signature scent of this trendy 5-star Las Vegas resort.
Desert Oasis - Caribbean sapodilla and ambrette take the lead, followed by evening violet and warm sandalwood before ending the journey with Pacific toasted cedar. The signature scent used in bath products at a 5-star Las Vegas Resort. 
Hyde Park London - Arabian jasmine fills the air to greet freshly ground cloves and warm white sandalwood. Inspired by a luxury hotel chain lobby scent with locations worldwide but particularly their Hyde Park London location. 
New York at Night - Luxurious warmth from exotic black tea leaves and toasted fig capture your attention, followed by freshly ground nutmeg and neroli before ending on a perfect blend of sheer evening vanilla and tonka bean. This scent is reminiscent of Black Tea by a famous perfumer for 5-star luxury resorts. 
Top Shelf Speakeasy - A smooth cocktail blend of pink pepper, neroli oil, rum and vanilla surrounded by the intoxicating warmth of smokey tobacco leaf and leather. Reminiscent of the underground Lovers of Today cocktail bar scent where Taylor Swift and Joe Alwyn had their first date.
Tropical Swim - Dive into this refreshing scent of quince, passionflower and lily of the valley on top of a dry down of sheer vanilla and fresh cut coconut.
Waterfall - Unwind with a harmonious blend of bergamot, green foliage, and ambrosia apple, wrapped in a sweet middle of jasmine and completed with white sandalwood. Inspired by the signature Waterfall scent piped through the lobby at 5-star resort in Laguna Niguel, CA.
White Cashmere - Wrap yourself in soft white cashmere as you take in the scents of cloudberry, heliotrope and violet leaf, cuddled together with tobacco flower, ebony wood, and fresh smoked vanilla. The iconic White Cashmere scent of this well-known tropical Las Vegas resort lobby.
Share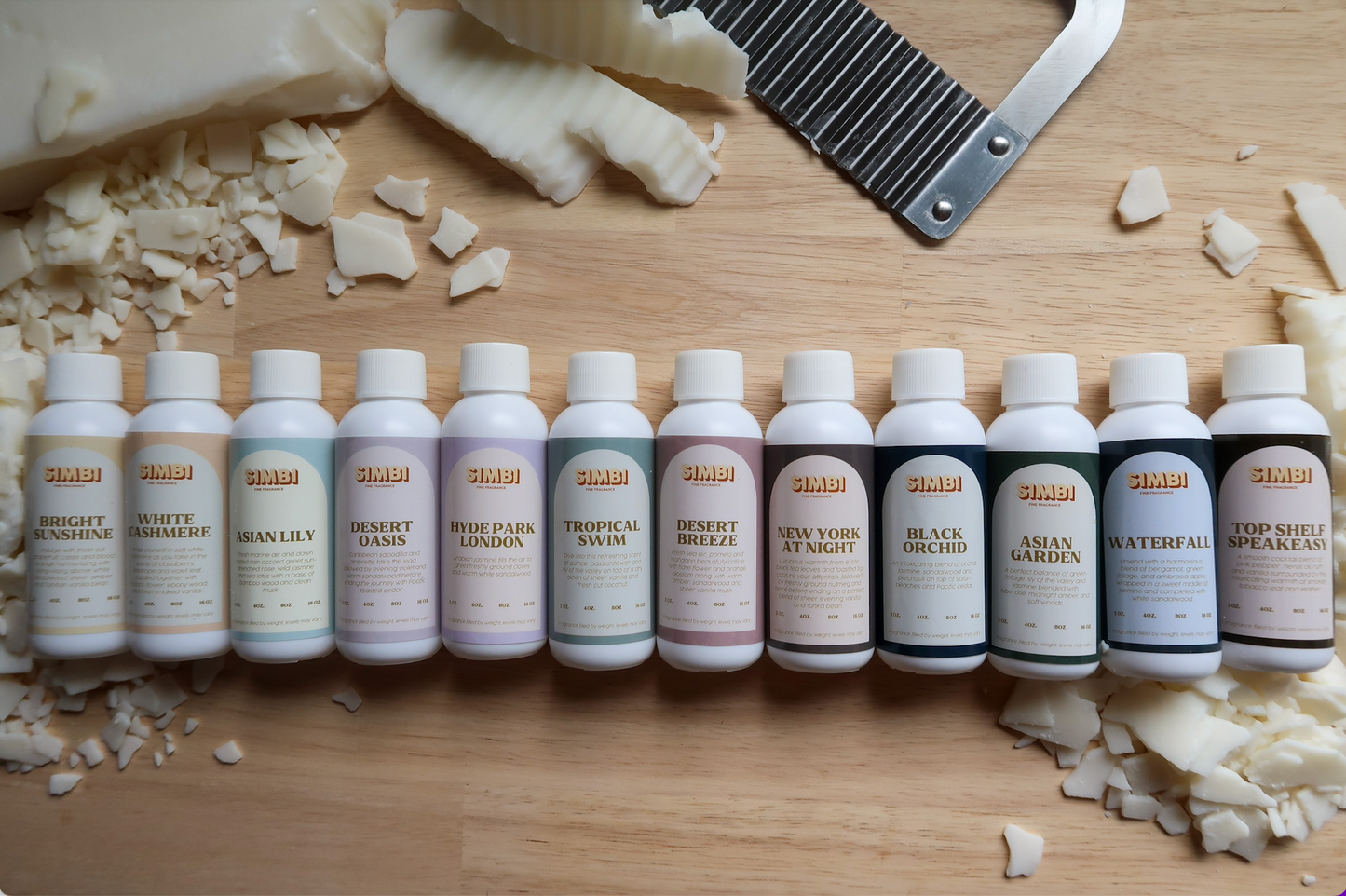 This should be Everyone's first Set in My opinion
I do have to be honest. This is the perfect starter set. It gives a great feel for what Simbi scents are all about and how they smell at a great price point. It's a great mix of everything. I would encourage also the latest release to be added too. This is just this Makers scent opinion. The discovery sets are a wonderful way to ,well, discover Simbi. I hope you all who are seeing this love them as much as I and so many others do.
The Best Way To Try Them All
I am in love with all of the discovery sets that Simbi come out with! It's a wonderful way to try a whole collection & be able to select what works for your nose & business models. Plus coming at a discounted price makes it affordable!
Destination Discovery Set - 12 Fragrances
Destination Discovery Set - 12 Fragrances
Destination Discovery Set - 12 Fragrances